---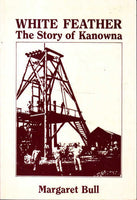 White Feather
White Feather is the story of the old goldfield town of Kanowna, from the time gold was found by Jerry McAuliffe in October 1895 through to the 1980s.
Kanowna, originally known as White Feather, was in its heyday one of the richest goldfields in Western Australia outside the famous Kalgoorlie-Boulder golden mile.
White Feather is a social history concerned with the discovery of gold and the early years on the find, life and conditions at Kanowna during its rapid growth, the steady decline of the field after the end of the 1890s, and some of the more important figures involved in the town's history.