---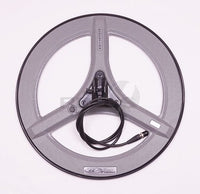 Nugget Finder 19inch Evolution Coil.
This coil to have exceptional depth and stability, and a high level of sensitivity to smaller nuggets has been retained.
The Nugget Finder Evolution search coils provide a sharper target response on both smaller and larger targets, for maximum performance. The 19″ EVO will be sure to impress with its light weight and stable performance on a range of gold sizes.
Weight approx. 1100g.
This will be a great coil for depth on wide open country.  MANY DEEP, large nuggets have been found with this EVO coil from Nugget Finder.
Polycarbonate Shaft Mount
Compressed Divinycell Foam Core
Bonded Shielding
Tapered ABS Enclosure
Pressure Regulation Valve
Fully Bonded Design
Spiral Wound Litz Winding
Gold Plated Plugs
Smooth Finish Skid Plates
Water Proof