---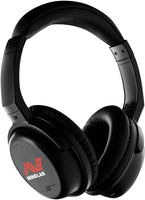 ML-85 Headphones
Introducing the Minelab ML 85 Headphones - the ultimate audio accessory for discerning metal detecting enthusiasts. These headphones incorporate cutting-edge wireless technology, providing fast, high-quality audio that far surpasses standard Bluetooth capabilities. Experience the thrill of more precise and faster detection responses, elevating your metal detecting endeavors to a whole new level.
Equipped with a USB-C port, the Minelab ML 85 headphones offer the convenience of easy updates and charging using the widely adopted and versatile USB-C connector. Stay powered up and ready to explore with efficiency and simplicity.
Designed to seamlessly integrate with the MANTICORE, EQUINOX 900, EQUINOX 700, and X-TERRA PRO detectors, the Minelab ML 85 headphones deliver exceptional compatibility and performance. Experience the perfect harmony between your metal detector and headphones, enhancing your detecting accuracy and overall detecting experience.
Included with the headphones, you will find a USB-A to USB-C cable and a 3.5mm headphone cable. These added accessories provide flexibility and convenience, catering to various setups and ensuring you are well-prepared for any detecting scenario.
Crafted with both comfort and durability in mind, the Minelab ML 85 headphones are designed for extended wearing sessions, allowing you to detect for hours without discomfort. Additionally, their rugged build ensures they can withstand the rigors of your adventures, making them a reliable companion on your metal detecting journeys.
Enhance your metal detecting game with the Minelab ML 85 headphones - where cutting-edge wireless technology meets precise audio performance. Uncover hidden treasures with speed and accuracy, and embark on a detecting experience like never before. Minelab invites you to embrace the future of metal detecting audio with the ML 85 headphones today.