---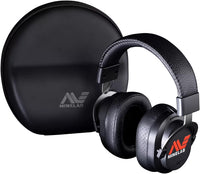 ML-105 Headphone
Introducing the Minelab ML 105 Headphones with Premium Carry Case - a revolution in metal detecting audio technology. Equipped with state-of-the-art super low latency wireless technology from Minelab, these headphones ensure you never miss a single signal from your machine, giving you a detecting experience like no other.
Say goodbye to audio lags and delays that could cause you to miss valuable targets. The Minelab ML 105 headphones provide real-time, instantaneous audio transmission, keeping you in sync with your metal detector's signals at all times. Experience the thrill of detecting with unprecedented precision and responsiveness.
Designed with a passion for performance, these headphones deliver fast, crystal-clear, and higher quality audio output than standard Bluetooth alternatives. Unleash the full potential of your metal detector as you hear subtle variations in signals, allowing you to identify targets more accurately and efficiently.
The Minelab ML 105 headphones are engineered to provide seamless communication with your MANTICORE, EQUINOX 900, EQUINOX 700, and X-TERRA PRO detectors, offering a perfect union of compatibility and cutting-edge technology. Detect with confidence and clarity, and embark on your treasure-hunting adventures with the assurance that you have the finest tools at your disposal.
With the added convenience of a USB-C port, charging and updating your headphones has never been easier. Keep your headphones up-to-date with the latest features and enhancements while ensuring you are always prepared for your next detecting journey.
To complement their exceptional performance, the Minelab ML 105 headphones come with a premium carry case, providing secure storage and protection when not in use. Sturdily built, this case is designed to withstand the demands of adventurous detecting and allows you to transport your headphones with ease and peace of mind.
Discover the unparalleled advantages of super low latency wireless technology with the Minelab ML 105 Headphones. Never miss a signal from your machine again, and elevate your metal detecting prowess to new heights. Join Minelab's cutting-edge audio revolution and uncover hidden treasures like never before.