---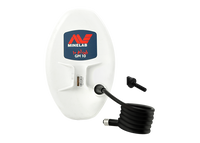 Minelab 10 x 6 inch coil for the Minelab Gold Monster 1000 metal detector.
Part No. 3011- 0336 - 10 × 6-inch Double-D GM 10 Coil -  great coil for wide open space detecting. Achieve good depth and cover more ground with this elliptical Double-D coil.
Assemble to the standard GOLD MONSTER shaft, or use the included Universal Shaft Adapter to attach it to an alternative non-metal shaft, such as a broomstick.