---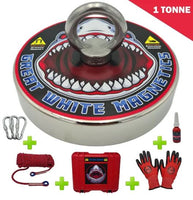 Megalodon 1 Tonne Expert Magnet Fishing Kit
This is Australia's strongest fishing magnet ever! Warning: This is only for experienced professionals! The insane pulling power of this magnet will allow you to pull up treasure that nobody else can, such as: Safes full of treasure, motorbikes, shopping trolleys, anchors and car parts!
We hope you've been hitting the gym because you will require some muscle!

The MEGALODON kit includes:
Single Sided 1 Tonne Pulling Power Magnet
10mm x 20m of High Tensile Rated Rope
Heavy Duty Carry Case
High Quality Threadlocker
Triple Carabiners
Cut-Proof Gloves
User Guide

Includes $284.65 worth of value if purchased separately!

This magnet is seriously powerful! We only recommend this for experienced magnet fishers who want to haul in LARGE treasures!
Magnet Dimensions:
2.8kg - 135mm x 25mm
Product Warnings:
-Strictly ages 16+. Experts Only.
-Strong Magnet
-Pinching Hazard
-Choking hazard (Keep away from Children 0 - 3 years) contains small parts (Bolt & Washer). Not a toy.
-Strangulation Hazard: Contains rope. Keep away from young children.