---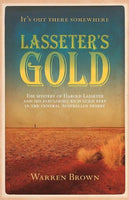 Is there a field of gold lying in the Australian outback, where nuggets are 'as thick as plums in a pudding'?
When Harold Bell Lasseter disappeared in late 1930 it could have been the end of a mystery. Thirty-three years earlier he had staggered out of the desert, almost dead, his pockets bulging with gold, claiming to have found a 15 kilometre gold reef. The mystery deepened when he and a surveyor returned to the isolated and mysterious ranges where the reef was supposed to be located. It became legendary when the largest inland expedition since Burke and Wills was launched.
In LASSETER'S GOLD, Warren Brown vividly recreates the drama of the search - the characters, the fights, the soaring temperatures, the impossible terrain, the plane crash, the pistol-carrying dingo-skinner who appeared out of nowhere. And just who was this man Lasseter? A one-time sailor, a bigamist, a man who claimed John Bradfield stole his plans for a single-span bridge to cross Sydney Harbour - was he also a very, very good liar?
LASSETER'S GOLD is the gripping story of an outback legend. Is it just a myth - or is there really a massive gold reef out there, just waiting to be discovered?