---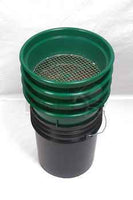 Keene Sieve set of 4 - Stainless Steel Mesh
4-Mesh
8-Mesh
12-Mesh
20-Mesh
Save time and improve your recovery with this set of Classifying Sieves!
Our Sieves are used for sizing material down before processing through a sluice box or gold pan.
Stack various mesh grades together for multi-tiered classification!
Conveniently fits over the top of most 5-gallon buckets (Bucket not included) and constructed of high-impact plastic and stainless steel mesh.