---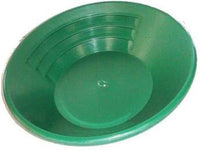 The very popular Keene three stage "Super Pan" !
This pan has three surfaces that perform specialized tasks.
First - the coarse riffled area (three riffles) is used to "rough out" the majority of the material.
Second - the textured area is used to pan any remaining black sands.
Third - use the "smooth surface" until only gold remains.
The green color shows both gold and black sands well. The pan is 14" across the top, 7-7/8" wide across the bottom, and stands 3-1/8" tall.
This pan does not have a drop center, to more easily transition material onto the sides of the pan for separating that last little bit of sand.
Plastic gold pans are molded with riffles and other traps that aid panning and are colored to help show the gold. Green is considered one of the best colors as it not only shows gold well but also the blacks sands that one is attempting to separate from the gold.