---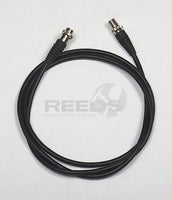 Coiltek 6' Straight Power Cable.

This Power Cord is compatible with the Minelab GPX metal detector.

With bigger conductors to reduce resistance and improve connectivity, the cable expands from up to 1.7 meters.

This cable has a right angle connector. The high quality gold-plated plug improves the connection to the detector, reducing power loss through the cable. It comes with a 4-pin or 5-pin configuration to suit Minelab GPX detectors.