---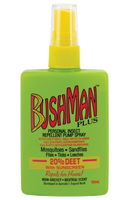 Bushman Plus PUMP SPRAY 100ml
A versatile, universal and highly effective range of insect repellents.
It is suitable for every member of the family, and fine for anyone with sensitive skin.

With unique time-release properties it continues to protect against insects when other-brands resistance would have faded.

Featuring sun screen makes Bushman Plus the complete solution for everyone.

Because of its sweat, water and rub resistant it's great for exercise, warmer climates, holidays and outdoor activities.
Bushman is proven to be 100% effective hours longer than any other personal insect repellent .
DEET remains the best and safest repellent active.
Bushman has unique time release technology, is very water/sweat/rub resistant but still allows the skin to breathe.
Bushman's unique formulations control the release of DEET meaning it lasts longer.
Bushman is waterproof and sweatproof - very important in warm climates.
Bushman was developed in the tropics and tested in swamps to ensure it is the best in the harshest of conditions.
With over 35 years' experience in repellents we know what works best and we use only the best and most effective ingredients!
Bushman was created, developed and is made in Australia