---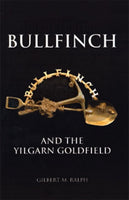 Bullfinch and the Yilgarn Goldfield by G Ralph
Bullfinch and the Yilgarn Goldfield had its beginnings with a suggestion from Sir Laurence Brodie-Hall that the unique nature of the community at Bullfinch during the Great Western Consolidated era from 1950 to 1963 deserved recording.
Sir Arvi Parbo, who began his mining career at Bullfinch, supported the concept and they encouraged Gilbert Ralph, a retired Executive from Western Mining Corporation, to write a history of Great Western and Bullfinch. Gilbert has taken five years to research and write this history.
Mary Sutherland, who grew up in Bullfinch, was very helpful in assembling copies of personal recollections, photographs and memorabilia from many long-term residents of Bullfinch and many of these have been included to give a graphic first-hand account of life in Bullfinch during the GWC era.
Many others have also made personal contributions of more recent events and activities.
This book tells the story of not only Bullfinch during the Great Western era, but of the discovery and development of the Yilgarn Goldfield from its beginnings at Golden Valley in 1888 up to the present day. It covers activities at Southern Cross, Marvel Loch, Westonia and Yellowdine and many places in between.
It is a book about people, their lives, their joy, their sadness and their achievements.