---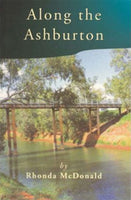 Along the Ashburton by Rhonda McDonald
The history of Onslow and the stations of the Ashburton.
Rhonda McDonald (nee Stidworthy) spent much of her childhood and married life in country similar to that of which she has written. She commenced her schooling at Onslow in 1936 and finished it at the Presentation Convent Carnarvon, along with some of the people mentioned in this book.
After leaving school Rhonda worked on the Carnarvon telephone exchange before becoming Gascoyne Traders' first secretary. Eventually she married Allan McDonald of Mangaroon Station, where they lived until their retirement to Perth.
Along the Ashburton is not a book of numbers and statistics. It is the human stories of the people who helped open up one of our last frontiers, the Ashburton. It was settled by pastoralists who took up large tracts of land, some exceeding a million acres.
The pastoral age was a grand age while it lasted - in Western Australia that was approximately one hundred years. The Ashburton was taken up about the late 1860s-early 1970s