---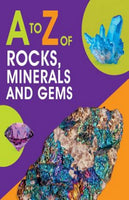 A to Z of Rocks Minerals and Gems
With a contemporary design, fun information and engaging images, the books in the A-Z series are the perfect first guides to popular non-fiction topics.

Get digging for rocks and minerals with this striking new book. A bright, contemporary design will engage young children's interest and maintain a fascination with rocks for years to come. Each alphabet entry is accompanied by a short chunk of text, designed to appeal to young readers and encourage them to look closely at the images.

About the Author

Claudia Martin is the author of many children's books and has worked in publishing for over 20 years. Her favorite subjects include geography, history, animals and technology.