---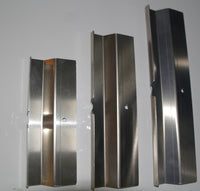 One of the challenges faced when purchasing any sluice mat, including the dream mat is to clamp the matting down.
This designed profile will both secures the mat and allows the water too pool rather than surge (+ finger lifting profile to the clamp).
This clamp works in securing sluice matting systems down that has a min half inch thickness. This has tested on many gold mat profiles and it works a treat.
Includes clamp + m6 bolt and wing nut