---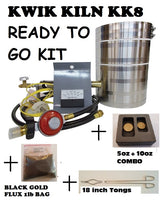 THE KK-8 DELUXE KIT               
This propane fired furnace can smelt ore concentrates, fire assay, melt pure metals, old jewelry... it can do it all and in larger quantities. Quiet, too.
The KK-8 is constructed of a stainless steel tension adjustable jacket, surrounding alumina silicate refractory insulation that comprises the interior of the kiln. We offer the only sectional kiln that allows for easy removal of the crucible before pouring.
The liner of the kiln is constructed in a layered and stacked configuration and is less susceptible to cracking from thermal expansion and contraction, as each layer can expand or contract separately.
Another feature of the layered and modular design is that individual sections of the kiln liner can be replaced at a fraction of the cost of replacing the whole liner, in the event of a serious spill or boil over of the crucible.
Specifications:
Model name: KK-8
Height: 11"
Width: 8" OD
Chamber: 5" x 5"
Weight: 10 lb
Propane Fired (Do NOT use Mapp Gas)
Stainless Steel exterior
Alumina Silica Refractory interior rated for up to 2300°F
Modular design – provides easier access & removal of crucible from chamber for pouring.
Deluxe Kit includes:
KK-8
Olympic Analog Pyrometer
 USA Custom Built & Precision Machined 160,000 BTU Bi-Metal Brass Tipped Burner with Stand
 6" Propane Hose
60psi Regulator with Gauge and Needle Valve
A2 Clay Salamander Crucible
Clay Crucible Pedestal
Graphite Double Conical Mold
18" Crucible Tongs
1 lb Melting Flux
1 lb Premium Gold Flux
8 oz Bone Ash
Liner Restore Formula
Instruction Manual & Smelting Tips
Note; Propane not included