---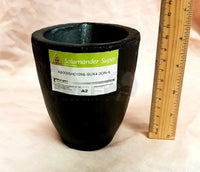 A clean melting crucible with good thermal conductivity and good resistance to chemical corrosion, for temperatures up to 2912°F (1600°C). Suitable for fuel and medium high frequency induction furnaces.
Use in our propane fired KK-6 or KK-8 kilns.
Note: NOT for use with the mini Kwik Kiln II or in a microwave kiln.